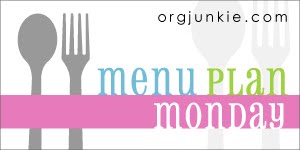 I have had a busy morning. But here is my menu plan for the week. We have a busy week and it's just me and K still sooo..
Monday: Pasta Carbonara (I made the bacon already when I made breakfast this morning)
Tuesday: Leftover Pasta Carbonara
Wed. Shepherds Pie (I made 3 batches of this, this morning and put in the freezer)
Thurs. Leftover Shepherds Pie
Friday: Pasta with red sauce (using the rest of the sauce from the Shepherds pie)
Saturday: Leftover Pasta with red sauce
Sunday: any leftovers we may have or soup and sandwiches
Have a great week!
`Angela