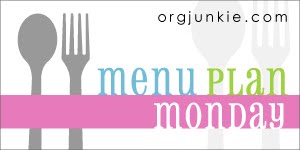 It's been a while. I've been doing my menu plans, just haven't been diligent about posting.
Monday: Baked Wacky Mac (like baked ziti but with wacky mac) and a salad and rolls (making 2 freezing 1)
Tuesday: Lefovers
Wednesday: Dirty rice and greens (making 2 freezing 1)
Thursday: leftovers
Friday: Chicken and rice
Saturday: Grilled Chicken, grilled baked potato and veggies
Sunday: Leftovers
Have a great week everyone. Have you made your meal plan yet?
Angela