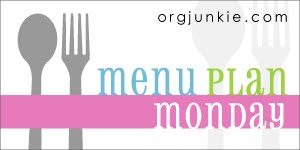 I actually have my menu's planned for the next 2 weeks. But I'll just post this weeks.
Monday:
Last of the leftover roasted chicken/ potatoes and veggie
Tuesday:
Crockpot roast with potatoes and onions and a veggie or salad
Wednesday:
Leftover Roast
Thursday:
Roast Beef Sandwiches, apple slices and a veggie
Friday:
Fish, Rice and veggie
Saturday: (K is having a friend sleep over)
Pasta Marinara or we will make pizza
Sunday:
Fish, sweet potato fries, veggie (we may change this one since hubby leaves for a few days for work)
Happy Menu Planning.. don't forget to enter my giveaway! $20 Chili's gift card!!
``Angela