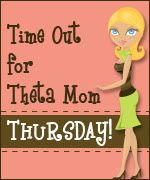 If you haven't hear of this, go ahead and click the button above.
Time out for Theta Mom Thursday, the goal is to steal one hour a month for JUST YOU! Doing whatever you what, with whom ever and where ever you want.
This has been a busy month for me. But since My birthday was on the 12th I am going to say both the 11th AND the 12th.
on the 11th I went to lunch at this great restaurant with about 30 ladies from my sculpt class at the gym.. It was so nice to have a girls lunch kid free. Since we moved I really don't have many "hang out friends" so this is something I miss. I really enjoyed the food and fellowship of all these very sweet ladies. It lasted about 2.5 hours :)
on the 12th (my bday) Hubs let me do whatever I wanted. He took me shopping and I got to get anything I wanted and then some! We had lunch and of course dinner with the 3 of us (at the same place I went the day before with the girls because I loved it so much). So that was more than an hour it was ALL day..
So I just didn't get an hour I got several.
Want to join in and tell what you did for your "me time" this month? Click the button about and add your link and blog about it.. I'll read it, I promise :)