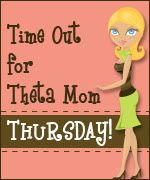 It's TIme out for Theta Mom Thursday. Hoset by http://www.thetamom.com/
Where we share what we did for US this past week. An hour we took to ourselves.
Mine wasn't really something I did for me, as opposed to what I really loved this week:
twice I had lunch with DH. Yesterday trying a new restaurant that I LOVED.
I hope everyone is able to take time out for themselves this week!
~Angela