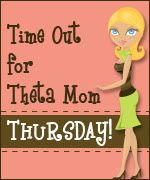 This is a thing a group of bloggers are doing. Click the button above and it will take you to the Theta Mom blog.
Time out for Theta Mom Thursday, is about how you mad some "ME TIME" this week. The goal is to spend 1 hour each week doing something you and only you want to do.
Since I have had the flu all week, I have had a very LONG week. This past weekend was good I felt fine. Sunday we had mother and daughter day, with breakfast, movie, lunch and shopping. Technically that wasn't alone "me time". On Saturday I did make some time to watch Steven King Horror movies. I really didn't have an hour per-say to do what I wanted to do. I didn't relax in the bathtub, eat chips and soda in front of the tv. I have been in bed with the flu all week. Looking back on it, feeling better and now out of bed. I was pretty nice to be in bed all week. Even though I was sick I have an excuse to sleep as much as I wanted, to NOT do any housework or cooking. However, when you are feeling better that stuff seems overwhelming and apparently it takes a while for your energy to come back.
If I had to pick 1 hour of ME TIME this week, I would pick: horror movie Saturday. That is really the only time this week I did something alone and wasn't sick.
~Angela