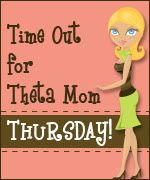 Time out for Theta Mom Thursday, is hosted by
Theta Mom
the goal is to take one hour a week to yourself. Do something only you want to do. Time to recharge and relax.
This week has been a crazy week. Taking care of a sick child, cleaning errands ect. I didn't even have time to workout this week, except for Monday. I did a short workout on Monday.
My time out for ME, is going to be today. I am going to get my hair done. It is long overdue. I haven't had it cut or highlighted since July! 5 months is way to long to let your hair go, when you have a layered type of cut and highlights.
ps. I'm posting this early because after I get my hair done, I have a busy day yet again. K is back in school today so I have a ton to catch up on. I may not be able to post later today. Is it Christmas break yet? :)
Happy Theta Mom Thursday.
~Angela